College & Career Guide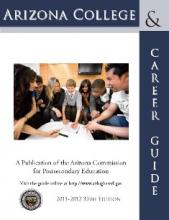 The Arizona Commission for Postsecondary Education (ACPE) seeks to assist students and families as they plan, prepare for and transition into a postsecondary education experience.  The ACPE is pleased to offer the following publication which provides current and relevant information for college planning and decision-making to students and their families.
The Arizona College and Career Guide– a publication that lists all Arizona public and private postsecondary institutions including proprietary, vocational, and career schools.   This document is a one-stop source for information on Arizona postsecondary institutions' accreditations, course offerings, length of study, costs to attend, financial aid programs available, and the institution's website.  This publication is widely used by high school counselors, Workforce Connections, college access programs, and the information seeking public.
The ACPE has compiled and disseminated this publication since 1975. To view the Guide online click here.