A Message from our Executive Director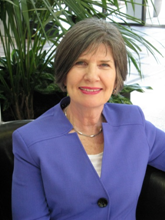 The Arizona Commission for Postsecondary Education (ACPE) is dedicated to expanding access and increasing success in postsecondary education for Arizonans.  ACPE not only serves as a forum for all sectors of higher education to come together to address opportunities and challenges, but also to increase student financial assistance, identify and implement strategies to help students and families plan, enter and succeed in postsecondary education.  
The Commissioners and I are proud that Arizona has welcomed and promoted innovative strategies for higher education.  Among educational opportunities are Arizona's prominent universities, ten public community college districts offering university transfer and occupational curricula, and more than thirty private universities and colleges offering baccalaureate degrees as well as numerous vocational training providers.   
Arizona recognizes the importance of postsecondary education.  The Arizona Ready Council has set a goal for all sectors of our postsecondary education system to double the number of students receiving a baccalaureate degree by 2020.  Likewise, the Council has set a goal to increase the number of community college students earning associate degrees and/or certificates to 44,000 and the number of in-state university transfers to 12,500.    
Postsecondary education is a key building block to a successful future and produces citizens who contribute to our community.  The ACPE Commissioners urge you to carefully examine and pursue Arizona's quality and varied postsecondary education opportunities. 
Sincerely,
Dr. April L. Osborn, Executive Director
Arizona Commission for Postsecondary Education